Mobile Storage Solutions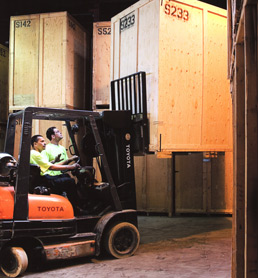 The biggest thing our customers love about our mobile storage units is the convenience and integrity factor. When we come to your home or business you see your possessions professionally wrapped and loaded into our mobile storage units ready for storage. We then transport the storage units immediately back to our toronto storage warehouse where they will stay until you require your items returned. When your ready we will bring our mobile storage units back to your location and professionally unload and unwrap your possessions.
Because of the way we load and store inside our mobile storage units there is never any missing items or additional handling and all storage is housed in a secure and heated toronto storage warehouse.
Read what some of our clients have to say about our service
Storage Stadium did an excellent job handling my move, storing my belongings and even helping me pack up my kitchen. They made it really easy and were very professional. The reason I chose them was because they were a one-stop shop...they could help me move and store my belongings. I didn't need to worry that they were going to unload my stuff into a storage locker--they stores the crates they filled at my house directly. They are also climate and pest controlled which was important. I'll definitely use you again!
I just wanted to touch base and let you know that the guys who came over were AWESOME! The best packing experience I've ever had, they were great. Professional, very capable, quick and nice .. and Yes, they are Tetris experts!
We did our load-out with Storage Stadium yesterday and it was quicker and easier than I could have imagined. We were well prepared for the crew, which helped, but they were fast, courteous, hard-working and EARLY! Awesome. It was over almost before it started and our house looks GREAT with so much extraneous stuff gone. If only it was practical for us to live here like this!
Storage Stadium was terrific. They picked up my stuff in record time and kept it for almost four months and then delivered it safe and sound with the best of humour and efficiency. Their staff are exceptional..
You have a good bunch of people working for you - all very friendly and quite professional. I am impressed with your business and will definitely be passing the word about the services you offer.
Richard Frappier was prompt and most pleasant when providing an on-site quotation which was detailed and fair. I was not only advised of the moving cost but was also advised of the moving materials required to facilitate a smooth ad damage-free move!