Residential Mobile Storage Unit Rentals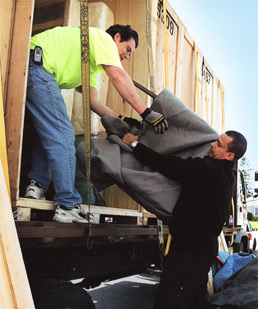 Storage Stadium provides long or short term household moving and storage. whether you're staging a house or renovating a room or floor we can provide professional movers and a complete storage solution with piece of mind. Providing household moving and storage solutions in the greater Toronto area since 2001, our secure and heated warehouse has 23,000 square feet of climate and pest control storage space.
What can I store?
Whole or partial house storage, we have a solution.
Are you between homes and need storage for all your household effects? – Ideal if your looking for whole house storage
Are you leaving the country and require long or short term whole house storage? – Our secure, heated toronto storage warehouse is monitored 24/7
Are you staging a home for sale, running out of room, need a basement or room cleared for a renovation or just looking to generally de-clutter? – Ideal if your looking for partial house storage
Antique furniture storage – Did you inherit furniture that you cannot part with but have no room in the house for?
Miscellaneous house and garden furniture – Do you have seasonal furniture, decorations and other household items?
Camping, hobby, sports or gardening equipment – perfect long or short term storage solutions available for these items and more.
Whether its your entire home or partial house storage our professional movers can take care of all your storage requirements.
Safe And Easy Storage
One of our professional service representatives will be more than happy to provide you with a free no-obligation quote, the number of mobile storage units required will be determined based upon your storage requirements. After this initial consultation we will schedule a pickup time with our professional moving team.
Using our unique transportation system we will arrive at your home anywhere in the greater Toronto area with as many mobile storage units as was determined to safely wrap and store all your furniture and belongings. Each item is carefully wrapped and loaded by our professional moving team into our mobile storage units, all protective blankets used are provided free of charge for the duration of your stay within our secure warehouse.
Once loaded we will then transport your storage immediately back to our warehouse where it will stay until you require your items returned. We will then bring our mobile storage units back to your location and professionally unload them for you.