We bring our storage units to you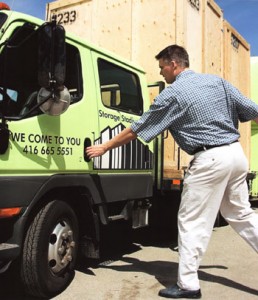 The biggest thing you will love about Toronto Storage is the integrity factor. You see your items going into the storage units and see it coming out of the same storage units. We give you peace of mind that there won't be any missing items or additional handling.
That is why Toronto Storage is the premier Toronto self storage company.
Mobile Storage Units
Yes! Whether it be staging a home for sale, between closing dates, renovating (a room, floor, or whole house!) storing your off season sports equipment or yard equipment (snow blowers, lawnmowers, summer/winter tires etc). Toronto Storage has the solutions for all your storage requirements.
Let our friendly and professional staff take care of you or your family's needs.
Peace Of Mind No Worries and Certainly No Surprise Costs.
Yes! We have trucks.
Our professional furniture movers will load for you!
You don't need to rent, load or unload a truck (or worry about 72 different types of insurance)
Yes! We can pack and unpack the storage units on-site before your very eyes, so there are no missing items.
Pay only for the storage units you use; we provide flat-rate transportation and storage fees and very low labour rates.
We provide free access to your storage at our Toronto storage warehouse if you want to take something out of your storage unit or perhaps squeeze one last thing in providing you call first and then drop by our location.
Toronto Storage space
Our Storage warehouse is so big no wonder we call it Toronto Storage.
Yes! You can use as many storage units as you need.
Yes! You can store with us as long as you need.
Yes! Our storage units are stored inside our warehouse.
Yes! Our warehouse is dry and climate controlled.
Yes! We use an advanced pest control program to keep pests out.
Yes! Our storage warehouse is security monitored with a state-of-the-art alarm system.
Door to Door
Transportation from your home to Toronto Storage or from Toronto Storage to your home.
Loading or unloading of storage units at your house:
Shuttle service per trip is charged at a flat rate + fuel surcharge anywhere in the GTA, regardless of how many storage units you fill.
Safe storage: Pay as you go storage units (one month minimum).